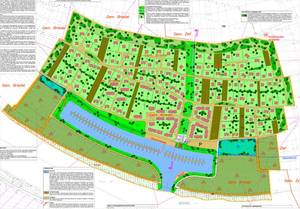 The exclusive residence Marina Weingarten will soon be set up in the vicinity of the romantic Moselle town Zell. Its location is extraordinarily beautiful and a real vision.
Each cottage and villa at Marina Weingarten will offer breathtaking views of the Moselle valley, where the river winds its sinuous course through vineyards. A truly delightful spot!
Some 200 dream houses will be developed on a 75 acre site in this lovely neighbourhood. Construction of these houses is on schedule for 2016. Be among the first to register for one of these houses in their beautiful surroundings. Do not hesitate to enquire for an update on today's status of the project.
Technical details
The residence will be built an a 75 acre site, some 50 of which will be used as building sites, while the remaining 25 acres will become meadows and includs the marina. Our current estimate suggests an average utilisation of 65 % or 250.000 overnight stays per annum. Capital expenditure amounts to approximately 35 to 50 mio. €.